Move to Fullscript
Effective immediately we are moving our online supplement dispensary to Fullscript.
During the month of July, we will be reaching out to our patients who have an account on the emerson|wellevateSM site to provide you with the information necessary for creating an account on FullscriptTM. We will be closing our dispensary with emerson|wellevate effective July 31st.
We recognize this switch is inconvenient—and maybe a bit of a hassle—but, unfortunately, the emerson|wellevate site failed to mature and provide the user experience we had anticipated and expected. We thank you for your patience and cooperation during this transition. Preview Fullscript here: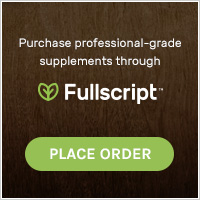 Mrs Oster Departure
We are saddened to announce that Mrs Oster will be leaving Vibrant Kids Pediatrics effective May 31st. She and her family are relocating to Colorado, where her husband—also a naturopathic doctor—will be taking over a large naturopathic private practice. For patients who came to our clinic exclusively to see Mrs Oster, she will be contacting you directly to discuss continuity of care with her or with another local naturopathic doctor. We wish her and her family the best, and thank her for her service to our patient families.
Summer Schedule
Summer is again upon us, so that means changes to our schedule.
Dr Jill will be away from the office this summer, so for those with controlled substance prescription requirements, please take note of those dates and plan accordingly.
Monday, May 28th closed in observance of Memorial Day. Please take time to remember those who gave the last full measure in service to our nation.
May 29th–June 1st Dr Jill out-of-office.
June 18th–22nd Dr Jill out-of-office.
Wednesday, July 4th closed in observance of July 4th. Happy 242nd America!
Monday, September 3rd closed in observance of Labor Day.
September 6th–7th Dr Jill out-of-office.
Issue with UnitedHealthcare
We are experiencing an issue with UnitedHealthcare (UHC) policies sponsored by Delta Airlines. The issue is well check visits are currently not being covered, because UHC states the visit was provided by an out-of-network provider. Vibrant Kids Pediatrics is an UnitedHealthcare in-network provider, and only polices issued by Delta Airlines are having this issue—all non-Delta Airlines UHC polices are covering well check visits at 100% as expected. We have been told by numerous UHC customer service representatives over the past several weeks this is due to an error in UHC systems that has been resolved, and all affected claims will be reprocessed. However, we continue to see well checks visits not be covered for dates-of-service through the week ending March 23rd. If you are a Delta Airlines employee who has been affected, please call UHC—as with the Blue Cross Blue Shield of Georgia issue we experienced at this time last year—only calls from patient families will hold UHC accountable for their error. Until resolved you will be billed for the well check visit, as UHC is assigning the visit to "Patient Responsibility."